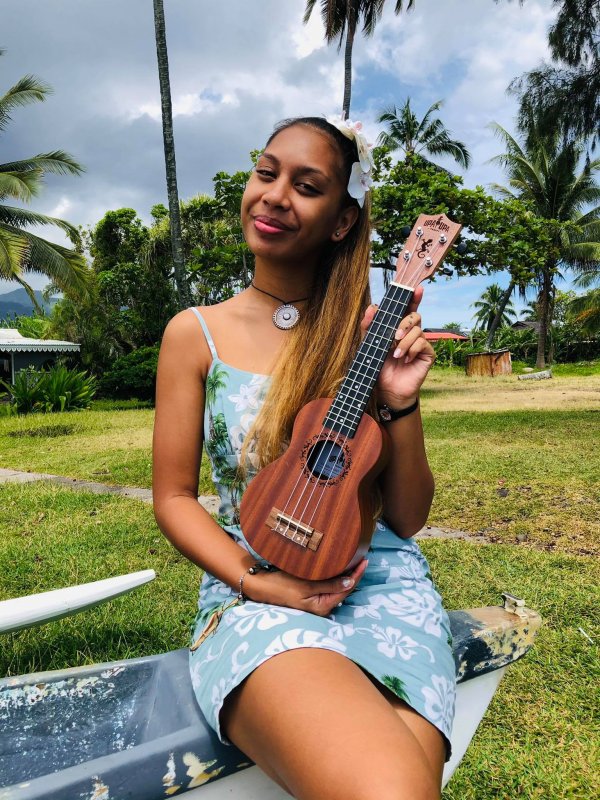 Upa Upa Tahiti today meets Camélia Mearii U, a talented Polynesian artist who was revealed during a singing competition. A moment of sharing in his image, gently and simply facing the sea in Taunoa, his favorite place!
Ia Ora Na Camellia! Can you introduce yourself please?
Ia ora na Upa Upa Tahiti, my name is U Mearii Camélia, I am a singer-songwriter and the winner of the 2019 Nescafé Star singing competition.
Have you always loved music?
Yes, I've been singing since I was little. I never took any lessons, I learned everything on my own. But I grew up in a family of musicians so I think it helped me to have an ear, to understand why it takes a lot of breath to reach such a note… I am the daughter of Polynesian singer Charles U, so I I followed his path a bit. When I was a child, I often accompanied him when he performed and I always wanted to do the same, become a singer myself!
Yet it was not easy at first: for years, I had to face my own doubts but also the ridicule and the eyes of others... Whether in college or on the networks, after my appearances on Studio Live Station. When I was younger, I also took part in several competitions that I did not win (including Nescafé Star for the first time at the age of 16 when I was not selected from the first castings). Several times, I almost gave up on this dream of becoming a singer… Because it takes willpower when you're alone to achieve your goal!
In 2019, you re-entered the Nescafé Star competition. How did it go, what did this adventure bring you?
It wasn't easy either at first: I almost gave up because I didn't believe in myself. The competition was tough, the competitors were very talented and I sometimes wondered what I was doing there. But as the adventure progressed and through hard work, I regained self-confidence and I fought my limiting beliefs.
On the night of the final, I also had the chance to sing on To'ata and this stage was a dream for me. Before, I went to see my dad there and said to myself "one day, I'll be there". And I succeeded! Singing on the To'ata stage is something to experience, and it's so beautiful when your dream comes true! It was one of the most beautiful evenings of my life, I am proud of this victory. By winning Nescafé Star, my doubts were lifted and I realized that I had my place in music, just like my dad. My victory was a bit of a revenge on life and it gave me strength and even more motivation to really get into singing. My victory allowed me to gain notoriety, equipment, the recording of a song… But the greatest reward is that it has above all changed the way I look at myself. It gave me self-confidence and now I know what I'm worth. From now on the criticisms do not reach me any more!
Can you tell us about your song "Moemoea", which you were able to record following your victory?
"Moemoea" means "dream" in Tahitian. It's the story of a little girl who always wanted to sing but was made fun of by her friends. But despite everything, she will not give up: she will continue to work again and again and in the end, she will realize her dream, that of being a singer. It actually tells my story. But this song also carries a message: I want to encourage all young people who have plans not to give up. Through my journey, I hope to be a motivation for all those who do not succeed the first time! Failures are sometimes beneficial because they allow us to understand that we need to work harder and be better prepared to succeed in what we undertake. And I'm happy because my song had the desired effect: when it came out, I received a lot of messages from people who told me that my song had helped them a lot and motivated them not to give up on their project!
Do you write and compose your own songs?
Yes, the song "Moemoea" is also one of my compositions. It's the only one that's come out so far. I have a facility to compose in Tahitian. I always compose with my ukulele, by the sea. Being alone, hearing the sound of the waves and the chirping of birds, looking at the mountains... It inspires me! I always start by playing a few tunes, I record myself, I listen to it again then I write and I rectify this that… I also draw inspiration from the feeling I have: for example if I'm in love, I'm going to write a song 'love !
Is it important for you to sing and compose in Tahitian?
Yes, because not only does it come to me more easily than in French or English, but also because I want to perpetuate the language. I grew up in a family where the Tahitian language was important, I also went to Sunday school at the Protestant church where everything was in Tahitian and I also did a reo license. I really have a passion for it: I love my language, I love hearing people speak in Tahitian. It's a shame because it's spoken less and less, whether at home or with friends. So the fact of writing and singing in my language allows me to go back to basics because I don't have the chance to speak it on a daily basis, yet I would have liked to!
How did you learn to play the ukulele?
I started when I was little, around the age of 8-9 years old with my cousins! Whoever knew how to play taught us. I quickly hooked with this instrument, we had fun! I grew up in a family where we used to party a lot and I often watched the big guys playing the ukulele, to learn the chords and the keystrokes. I only know how to play in C but that's enough for me to compose my songs. But this year, my goal is to learn a little more to play the ukulele!
Do you have a preference for the ukulele over the guitar?
Yes, because it's an instrument that's easier to learn than the guitar, especially because it only has 4 wires. I have a preference for the ukulele because it's simple, small and light and you can take it everywhere. If I were to go around the world, I would leave with a ukulele! I also really like the sound of Hawaiian ukuleles because it's soft and relaxing.
What are your next projects?
Soon I will be part of the clip for the new Nescafé Star 2021 edition, with candidates and other local singers. I will also intervene during certain evenings, in order to motivate the candidates, send them good vibes and that they can see what it is like to be a winner: we are not forgotten. It will also be a way for me to come back on stage a little because after my victory, there was confinement… I also wanted to be forgotten a little because I was going through a somewhat complicated period personally. I chose a completely different professional path because I opted for aesthetics so I devoted my time more to that than to music. So through these evenings organized by Nescafé Star, I want to show that I'm still present even if I can't devote 100% of my time to song. I am aware that you have to have a job on the side because it is complicated in Polynesia to live only from music. Here it's still small and it doesn't win unfortunately, it's very different from abroad.
This year I want to come back little by little, especially during acoustic entertainment. Otherwise I also plan to release a new composition and its clip, on the theme of love.
Mauruuru roa for this moment U Mearii!
Thank you Upa Upa Tahiti for this moment of sharing!