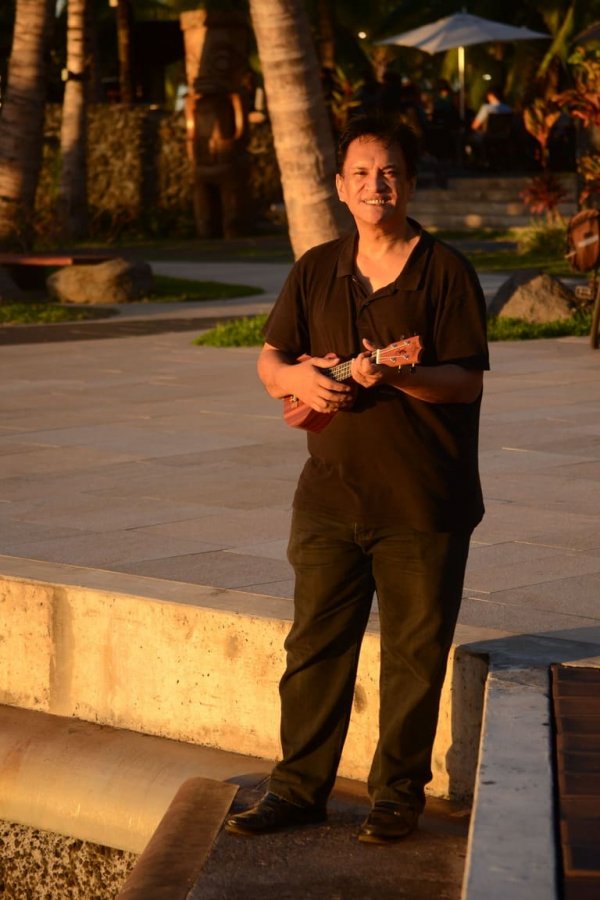 Upa Upa Tahiti had the pleasure of meeting Cyrille Tetiarahi, a musician for over 40 years. Meeting with this lifelong enthusiast, in a sublime setting: the seafront esplanade of Papeete in Tahiti!
'Ia ora na! Can you introduce yourself please?
'Ia ora na my name is Cyrille Tetiarahi, I have been a career musician for over 40 years. It's been a long way now! [laughs]
How did this interest in music come about?
In my family, everyone is a musician. We are 7 children, all my brothers and sisters play an instrument: the ukulele, the guitar, the piano... My parents too, I was also lucky that they pushed us to do music. music when we were younger. I am the only professional, my relatives really play for fun. Personally, I chose to pursue a career and it came almost naturally. There was something that attracted me. Previously, like everyone else and out of necessity, I worked for companies, without really liking what I was doing. Personally, music gives me everything I need. It answers exactly what I'm looking for: pleasure and happiness!
Where do you perform?
During my career, I traveled a lot in order to make musical animations. I was able to go to Australia, New Zealand, China, Japan, the United States...
But at some point I chose to prioritize my family life, in order to be able to enjoy my loved ones. From now on I play on Tahiti, and in particular every week at the restaurant "Le Moana" from Thursday to Saturday evening. We have been present since the opening of the restaurant and with my musician friends, we form the group "Les Moana's ZICOS". We offer different registers, our music is quite varied: we make traditional music of course, revisited and adapted to current music, we also have a repertoire of international music... Personally I like it, I like to touch all.
Is it important for you to keep these traditional Polynesian songs alive?
Yes, a lot ! It must be said that when you carry the Polynesian culture within yourself, you cannot remove it. It's natural, you live with it.
What instruments do you play?
I play the piano, the drums, the guitar, the ukulele... Besides, I've always been playing the ukulele! For me the ukulele is a culture in its own right and has always been. The Polynesian likes to make music and this instrument greatly complements Polynesian music.

On the other hand, I don't have a particular preference between these different instruments: I like music as a whole, regardless of the instrument. I adapt very quickly to the instrument I have in my hands.
Do you have any advice for new musicians?
Music is innate to many people. But then you have to develop it. You can't claim to have infused science without following a musical training. To evolve, you have to practice, be part of a group, have exchanges with people in the field... That's how I did it, so I know how to read music.

On the other hand, what you learn at school will be different from what you will experience on the "field". Because at school we write while practicing with other musicians, it is something different that is transmitted, without necessarily being explained...
What are your plans for the future?
I have a recording studio: I do a lot of covers and compositions too. I produce different local singers and singers. I'm a lot into acoustics, playing guitar, ukulele in the background...
Māuruuru roa for this exchange Cyrille!
Thank you Upa Upa Tahiti!