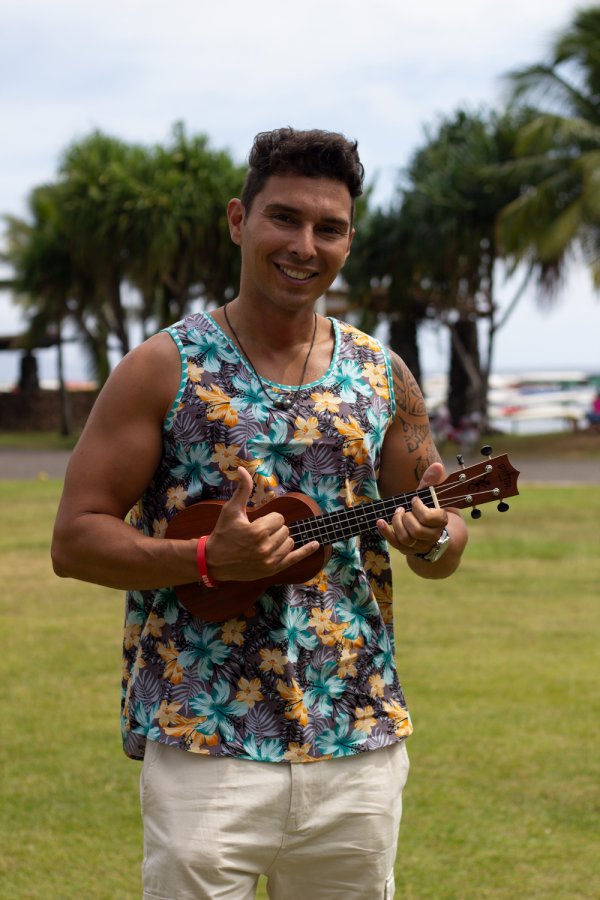 Upa Upa Tahiti presents Ken Carlter, an artist passionate about music since childhood. Originally from Tahiti, he is committed to promoting Polynesian culture through his songs, which are very popular in France in particular! Meeting with this talented artist whose future promises beautiful things...
Ia Ora Na Ken! Can you introduce yourself please?
Ia Ora Na, my name is Ken Carlter and I am from Tahiti. I am a singer-songwriter and music producer.
How did your musical career start?
I started my career at the age of 16, by creating a music group with high school friends. At the time, our group was called "Metyss Tahiti" and we broadcast our first song in 2003 on local radio stations. Subsequently, the group separated, some preferring to take different professional paths while I wanted to devote myself to music. For me, it's always been a passion: I've had it since I was little and I can't live without it. Music accompanies me every moment of my life. So with one of my colleagues I went to France in order to make contacts. Together we continued to record for a few years. And in 2010 my solo career started. I had the chance to meet Nicolas Neidhardt, producer and composer who notably worked with M Pokora and Jenifer. With him I recorded my first single "Hot Summer With My Love". It was on this project that I met my wife, Serena (with whom I have been working ever since!).
This title, when sent to Tahiti, quickly went viral. In a few weeks, he took part in all the tamure marathons (Tahitian dance marathons) and ranked number 1 in the Top 20 Pacific! The success was explained by the fact that with this music, I had created a new movement called "tahitian pop". It was international pop but with Polynesian instruments: percussion, ukulele… and the Tahitian language! Finally I created my own current, a music which resembles me. I like modern and traditional music, I like Tahitian dance and I didn't want to choose so I mixed it all up! And it took. If you are sincere in your project and your music is true to who you are, it can only work because people will feel this sincerity. That's how I broke through in Polynesia. But in France, the success was not the same.
Subsequently, with my wife, we decided to create our own label. We became producers and that's how we co-produced my first album "Tahitian Boy", in 2014 with Nicolas Neidhardt producing most of the tracks.
Then I continued to release one single per year and my notoriety continued to grow. Then in 2018, thanks to connections in my network, I started working with Bertrand Louis (manager of Boulevard des Airs and co-editor of Vianney). With him, I did the song "Ia Ora Na" which was very well received in France, it became the hit of the summer! Thanks to that, Sony France offered me to sign with them and in the summer of 2019 I did 15 dates with lots of artists such as Bigflo and Oli, Mika, Amel Bent... in front of more than 150 spectators on the Internet. all dates! Since then, my career has taken off.
You also participated in Eurovision France 2021. How did it go?
It was a very nice experience! Participating in it was a dream that I had had since childhood, after seeing Gabilou's participation when I was a child… So I wanted to try my luck! I created this song "Maeva", which is the continuation of "Ia Ora Na". I had the idea of ​​adding voices to do the backing vocals so I asked Eva Ariitai & Vaheana to join the adventure. Together, we created the Polynesian trio "Amui" for the occasion. Despite the confinement, it was only happiness. We ended up runners-up, with the public voting which for us was the biggest win.
What are your inspirations and your creative process when you compose your songs?
In terms of inspiration, I have several favorite themes. The first is Polynesia, because that's where I grew up. I draw from my experience, my life, my feelings here (in particular the feeling of melancholy which hovers in our islands and which is found in traditional Polynesian music). I also like love songs and moving rhythms.
So with all these influences, I create melodies in my head. Then I record myself on my smartphone and then I look for the chords of the melody I want to create on my ukulele. It's a reflex for me, that's why this instrument always accompanies me! Then I put words on the melody, then I switch to my "Pro Tools" software to create the song: I add percussion, the ukuleles, I add rhythm, I record the voice… In fact, I create the whole model at home, before leaving for Paris where I record my song in a professional studio!
How many years have you been playing the ukulele?
When I was little, in my family there was a party every weekend. I was lulled by local music, played to the sound of ukuleles (Tahitian and Hawaiian) and guitar!
I started learning to play the Hawaiian ukulele when I was in college. I never took any lessons (I don't know music theory), I learned everything by ear. I learned a lot of things by following tutorials on Youtube in particular!
I know what I need, without being an expert either. Sometimes, like for some very specific hits, I ask musicians stronger than me to accompany me. This is also what happened with my song "Ia Ora Na"!
The Hawaiian ukulele accompanies me all the time: when I travel, whether on the plane or in the subway... It's an instrument that has a little island side: for me it's part of the Polynesian dream that the metropolitan people of me, a Tahitian artist. I think they don't want me to play guitar like everyone else.
The Hawaiian ukulele is my favorite instrument. I prefer it to the Tahitian ukulele because it has a softer, much less high-pitched sound. The Hawaiian ukulele has a bass, unlike the Tahitian ukulele! With this instrument, you can do a whole "ukulele-voice" concert, it will be nice. And compared to the guitar, the Hawaiian ukulele is also my preference because it only has 4 strings, it's easier for me!
Do you think you make your fans want to learn to play the ukulele?
Ah yes (laughs), I am very often asked for the ukulele scores of my songs! So, I make tutorials where I explain and show the chords. People like it, recently I even received a video of someone from Mexico playing one of my songs on the ukulele! It's fun.
Mauruuru roa Ken! One last question to finish: what are your future projects?
I'm currently working on several projects: in the immediate future, there's the release of the summer hit, the clip of which we're going to shoot very soon here in Tahiti. Then I will also release another single, before unveiling my album surely in 2022, on which I am working a lot at the moment!
Mauruuru to you Upa Upa Tahiti for this interview!