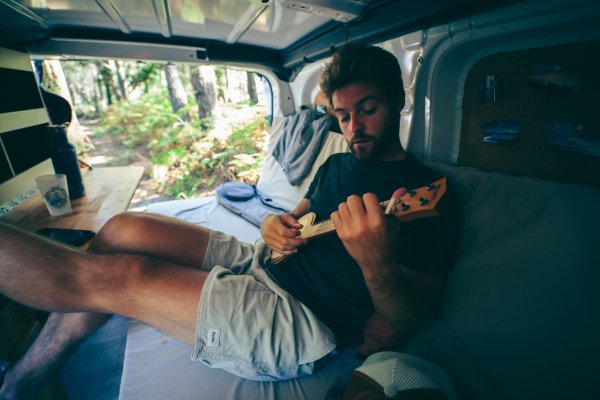 Upa Upa Tahiti presents Kévin, by his artist name Petit K! A passionate musician who doesn't hesitate to sometimes splurge with his ukulele… Encounter!
Hi Little K! Can you first introduce yourself to our readers?
Good morning ! So where to start…I m'calls Kévin Pierrel, better known in the world of music under the name of Petit K. Besides, I have an anecdote to tell you about it: I chose Petit K because Kévin is the most stereotypical first name of all'story of the first name but also because I wanted an artist name bringing me a little more uniqueness in the music!
J'I am 28 years old and I am a singer-songwriter in Acoustic Pop / French Variety.
Living in the Landes in the summer and in Savoie l'winter, I juggle between ocean and mountain and I'inspires landscapes that I cross, just like people that I meet to make songs.
Qu
'

are you

'

gave the taste for music and

'

want to perform as

'

artist?

J'I encountered music quite early in the family circle. My mother strummed the guitar a bit, and we used to sing a lot in the car, at family meals etc… so d'as far as I can remember, I'have always sung… Not necessarily well, but sung all the same. In fact, music was part of my life long before I realized it. This n'is that around my 14-15 years that I'I decided to strum my house guitar and write my first little lyrics. Then the scene came when I was 16.
What are your musical influences and sources of
'

inspiration for your compositions?

I am very much inspired by French Chanson in general: both old (by artists such as Brel, Brassens, Ferré), less old (Cabrel, Renaud) and current (Grand Corps Malade, Vianney, Ben Mazué…). In terms of melodies, I will draw more towards an Australian or English Neo Folk (Cocoon, Angus and Julia Stone, Passenger…)

I shake all that well in my head and bam, it's chocapic! [laughs]
How long have you been playing the ukulele?
I've been playing the ukulele since I was around 16. J'I learned thanks to the group Cocoon and their song "Chupee" and since then, I haven't'never left!
Rather guitar or ukulele? And why ?
Both actually! I compose more on the guitar, but the ukulele is always in a bag when I go hiking or on a trip… So many compositions born on the road are part of'a ukulele!
In addition, it has the advantage of being smaller than a guitar, more ergonomic and c'is handy for doing acrobatic silly things while playing music! [laughs]
Can we hope for a future EP with a background of ukulele?
Not an EP no, but on my next album which will show up in 2022, we will hear the ukulele on a good number of songs, in accompaniment, in a layer that comes to dress the pieces. J'like the lightness that the sound provides.
What are your future projects and where can we find you?
A horizon 2022 album with lots of songs in it, and you can find me on social networks (Instagram, Facebook, Tiktok) with the name petitk.musique! But also lots of great projects, collabs etc.. but hush, j'I said too much!