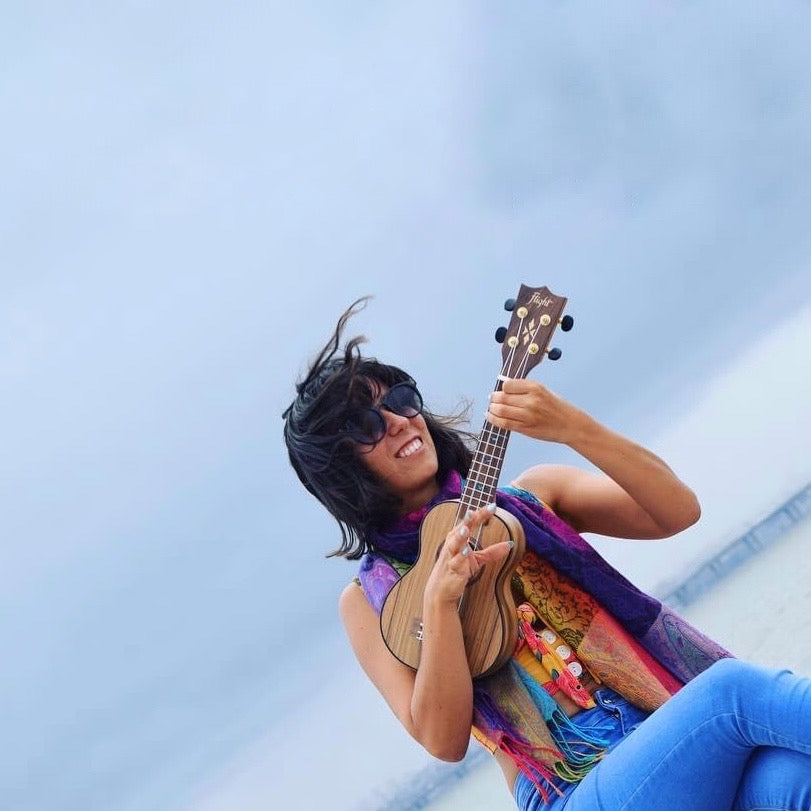 In this article, the Upa Upa Tahiti team shares with you the exchange we had with Telma, a Portuguese artist who made the ukulele her favorite instrument… Meet!
Hello Telma! Can you start by introducing yourself?
Good morning ! My name is Telma Pereira, I am Portuguese and I have been living in France since 2016. I am 34 years old and I am a dancer. I have a Dance-Theatre company called ASYLUM. Currently I am creating a piece of world songs, music, dance and manipulation of objects. The show will be called "I won't wait to be old to tell stories" and will be aimed at a young audience.

Quwhat are yougave the taste for music?
I don't come from a family where the parents are musicians but they gave me a varied education: at 10, I learned the piano for 10 years. My grandfather was a big fan of "fado" (a Portuguese musical genre, made up of folk songs with a melancholy theme accompanied by plucked string instruments). Even if I didn't really like this musical style when I was younger, I grew up with this culture.
Also with dance I developed a lot of interest in songs in different languages ​​and rhythms. And finally all the different people who crossed my path and shared their tastes in music with me.
What is your musical background and owhere are you at now?
After learning the piano, I became interested in the ukulele and started playing it when I arrived in France 5 years ago. It was a time in my life when I found it difficult to start over in a new country, to start a new life… And I didn't have a lot of work. The ukulele has taken a big place in my daily life and made me discover other abilities, such as being able to sing. I learned to play this instrument on my own, with the help of tutorials. I trained every day, up to 5 hours of learning in a day. I would pull out my ukulele after my dance rehearsals and over time I incorporated the music into my company's shows. I also started to produce small concerts of world music during the summer holidays.
The show currently being created brings together several techniques: singing and the ukulele are two of them. Even though playing the ukulele is now part of my job, I still play with great pleasure.
What are your musical influences? An artist whoinspire?
I have a lot of musical influences, it's hard to choose just a few. What I can say anyway is that when I started to sing, I discovered that I had "fado" in me. I really like some Portuguese singers like Ana Moura, Zeca Medeiros, José Mario Branco and Zeca Afonso (singers of our Carnation Revolution, which ended the 50 years of Salazar's dictatorship in Portugal).
I will also mention Brazilian music, like Caetano Veloso and all the band of the same era around the world: Chavella Vargas in Mexico, Silvia Perez n Cruz in Spain, Cesaria Evora in Cape Verde.
As for French chanson, I like to listen to Georges Brassens and Boris Vian, Utte Lemper in Germany… The list goes on and on! I like the different rhythms, the different emotions and different cultures that can be found in music.
Do you compose your own songs?
Yes, I started two years ago to write my texts and to compose the music. Moreover, one of my future projects concerns a concert show staged.
You are often in the company ofa ukulele on your instagram posts! Is it your favorite instrument?
Since the ukulele took its place in my life, I feel like a child who walks around with her comforter all the time [laughs]. This is the instrument that suits me.
Your favorite song to play on the ukulele?
Really not obvious question! I would say it depends on a lot of things… Right now I love singing and playing songs in Portuguese, my mother tongue. I also like to play popular Portuguese gypsy songs!
Thank you for sharing ! Finally, what are your future projects and where can we find you? ?
As far as my future projects are concerned, I want to continue doing shows and touring all over the world… Recently, I joined an Arab-Andalusian orchestra in which I play the ukulele and sing in Arabic. We will have a first concert in Angers, France, in March.

You can find me on Instagram (@concertdepoche), Youtube (Telma Jesus Pereira | Pocket Concert) and on my company's website: https://asylumcie.wixsite.com/dansetheatre
Thank you for this interview Upa Upa Tahiti!