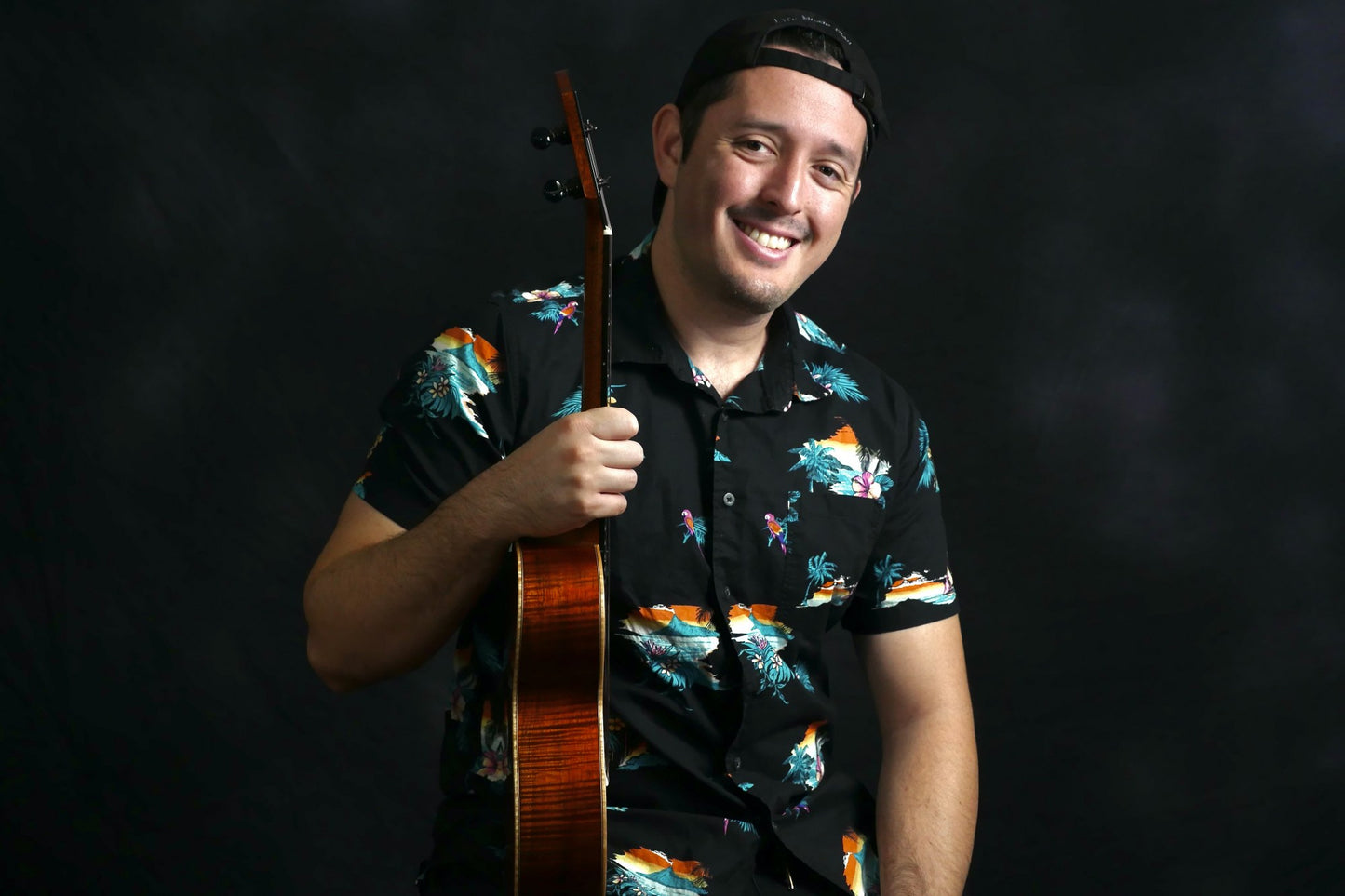 Andrew Molina is considered one of the most talented artists in the ukulele world today. Always on a quest to take this little instrument to the next level, he forged his fame on a fusion of genres, his unique combination of ukulele with effects and his widely famous musicality.ebro. Discover the portrait of this musician of great talent.
Who is Andrew Molina?
Andrew Molina grew up in Maui, on the island of Hawaii. He was thirteen years old when he started playing the ukulele, taking lessons in college. It was in the family that he made his debut: his first ukulele was that of his grandmother and one of his cousins ​​regularly shared his little knowledge of the instrument with him.
His passion really developed after a few months, when he attended the concert of Jake Shimabukuro. Seeing this artist play makes him want to fully immerse himself in learning and mastering the ukulele. He then devotes all his time and effort to it, practicing tirelessly for hours. This is how he realizes how much he loves Hawaiian music and playing the ukulele. His vocation is thus born: later, he will be a musician. For his fourteenth birthday, his father gave him a new ukulele to encourage him in this direction. This instrument still accompanies him today, whether during his concerts or for the recording of his albums.
A few years later, his dream came true. Andrew Molina is today a virtuoso of the ukulele, who has built an international reputation: he performs in China, in Europe, in the United States… and also in Tahiti! His concerts are an opportunity for him to share his love for Hawaiian music with the whole world. But also a way to show the versatility of this little instrument, which can be used in many musical genres. Andrew Molina's music can be described as a mixture of Hawaiian music, rock, pop and jazz. Not to mention his covers of famous themes, such as that of "Game of Thrones"! On stage, he overflows with energy and he is one of those artists who manage to create a strong bond with their audience.
He has released three albums, all of which have been nominated for the "Na Hoku Hanohano" (Hawaii's prestigious music awards, equivalent to the Grammy Awards in the United States).
With his debut album, The Beginning", Andrew Molina offers eleven songs (including eight which are original compositions). In 2017, he released a second album: "A New Journey". This time, he composed ten of the fourteen titles. We find him alongside other great ukulele masters, such as Jake Shimabukuro, now his friend, Kalei Gamiao and Craig Chee on cello. His most recent album comes out in 2020, it is titled "Evolution". On this one, he proves once again that the ukulele has no limit: it's an ambitious album, which highlights the technicality of the artist. We discover new chords, beautiful bass as well as emblematic covers!
Among the artists who inspire him, he naturally likes to mention Jake Shimabukuro, who, according to him, has revolutionized the way of playing the ukulele. John Mayer, Sting and Rodrigo Y Gabriela are also great sources of inspiration for him: "They all had an impact on the way I played and helped give my style more versatility. »
Teaching in the skin
With the cessation of concerts during the Covid period, Andrew Molina realizes that he wants to keep a link with people through music and that passing on his knowledge pleases him. So he starts giving ukulele lessons online and creates "l'Andrew Molina Ukulele Academy'. Whatever the level, this interactive online video program is intended for ukulele lovers, eager to develop their skills and mastery of the instrument at their own pace. Today, Andrew Molina also gives face-to-face lessons.
"I think teaching the ukulele is a great way to share the joy of playing music with others. I love seeing people's faces light up when they learn a new song or technique. It's particularerely gratifying to see them progress and improve over time. I encourage all new players to start train their ear and their musical intuition. They will become your most powerful weapons. »
Photo credit: Andrew Molina