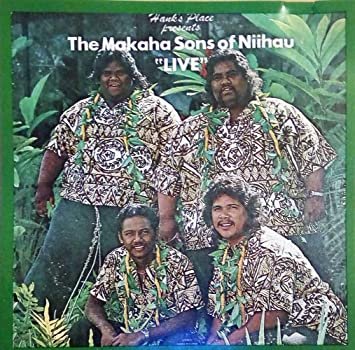 In the world of music, some groups will always stand out from others because they have left their mark on the musical history of an entire country and, sometimes, even that of the world. This is the case of the group "Makaha Sons of Ni'ihau" or "Mahaka Sons".
The group that shaped the "voice of Hawaii"
"Somewhere over the rainbow…". If you know this song, you have certainly already heard of the great Israel Kamakawiwo'ole, the one who is also nicknamed the "voice of Hawaii". We cannot retrace the history of the group Makaha Sons of Ni'ihau without delving (with great respect) into the past of this illustrious singer and ukulele player from Hawaii. The reason is very simple: he is one of the founders.
It all starts when IZ and his family move to Makaha. It was there that he met Louis "Moon" Kauakahi, Sam Gray and Jerome Koko with whom he quickly forged ties. The gang, joined by Skippy (IZ's brother), decided to form a musical group which they called "Makaha Sons of Ni'ihau". The group, created in 1976, first became known at a party in a small local nightclub. The mix of contemporary and traditional musical styles immediately seduced the public. Things then quickly changed. The "Makaha Sons of Ni'ihau" are gaining popularity. They start producing in Hawaii and then in the continental United States. Their big tour took them to many American cities.
The group has released fifteen hit albums and won several trophies, including the Nā Hōkū Hanohano Awards and the Hawaii Music Awards. The "voice of Hawaii" began to make itself known to the world. The Makaha Sons of Ni'ihau have become a reference in the world of traditional Hawaiian music. In 1993, the group changed its name to "Makaha Sons" after Israel Kamakawiwo'ole suddenly decided to leave. The "sons of Makaha" continued to produce for many years in their native country. They have also supported young artists in their careers. In 2004, they decided to create the Makaha Sons Foundation. The latter is known worldwide for its various community and charitable actions.
Reference titles in the world of the ukulele
With their original musical style mixing contemporary and traditional, the group Makaha Sons of Ni'ihau/Makaha Sons has inspired many artists and musicians, especially ukulele players. Even today, their songs are considered as true references. They are also frequently repeated and interpreted.
If you have decided to learn to play the ukulele, we recommend a short overview of the famous "Pas de Kristo", "Kahea O Keale", "Keala", "Mahalo, Ke Akua", and "Puana Hou Me Ke Aloha", some of the band's best-known albums.