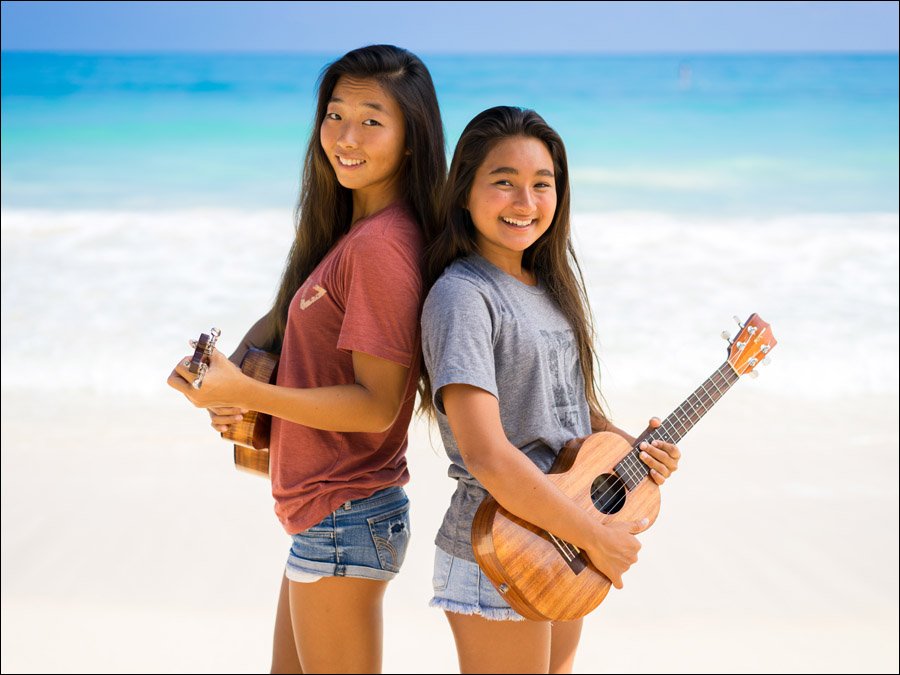 A classy and light style, tropical sounds, a sunny and breathtaking setting, two young women who play the ukulele to perfection. If you are passionate about music and you are a fan of the famous instrument of Hawaiian origin, you have certainly immediately recognized the famous musical duo of Honoka & Azita through these few descriptions. These two young artists have enjoyed, despite their age, a great reputation on the web. On Youtube, the videos of the tandem have accumulated millions of views. But who are Honoka Katayama and Azita Ganjali really?
Young ukulele legends
Like the string instruments they handle with great speed and dexterity, Honoka & Azita are also both from Hawaii. The ukulele cradled their childhood and practically shaped their taste for music. Moreover, it is with a master of the ukulele, the great Jody Kamisato (whom they met at the Ukulele Hale studio in Honolulu), that the two young artists perfected their skills. The professor, who became a manager, coached the two young women throughout their career.
The musical duo of Honoka & Azita is distinguished by its original covers of popular songs from the international repertoire. The unique arrangements they offer have won the hearts of many enthusiasts and professionals. In addition to their great musical talent, the two artists are also true nature lovers. This can easily be seen through their videos whose backdrops are generally made up of the magnificent landscapes of the volcanic archipelago of the Pacific with in particular the green mountains, the clear sandy beaches, the sea and the paradisiacal islands.
Honoka & Azita have, since 2013, participated in several competitions. It was during an international local ukulele competition that the duo became known by winning 1st place in their division and being named MVP (Most Valuable Player) of the competition. This first step was the beginning of a great adventure for the two artists. The duo was invited to open the popular music festival in Okinawa, Japan. He then performed regularly at the Hard Rock Cafe in Honolulu and at the 8th Rice Fest in Honolulu. During the 2017 Los Angeles International Ukulele Festival, the two young women were appointed organizers and instructors of the initiation workshops for beginners.
Titles that have won the hearts of millions of Internet users around the world
Although their arrival is still fairly recent in the world of ukulele, Honoka & Azita already have a well-stocked discography to their credit. Many Internet users follow them on the web and "savor" each of their interpretations. Among the most famous works, we can mention the double CD "Ukulele Island Style" published in 2015, the cover of the title "Do The Hula" and the famous "Island Fire" (their first composition).
photo credit: Andrew Agcaoili