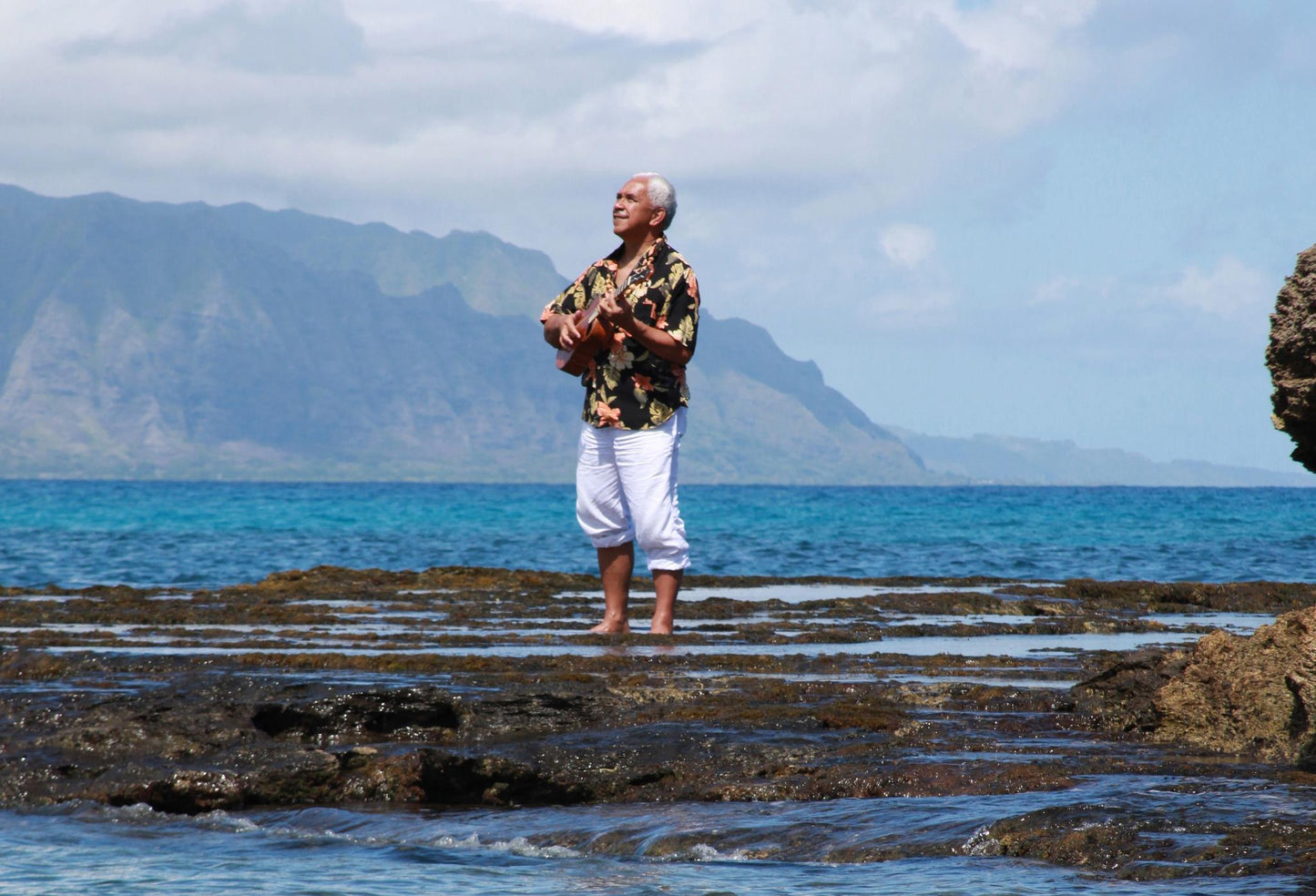 Who is Kimo Hussey?
Music and the ukulele have always had a special place in Kimo Hussey's life. He started playing the instrument at the age of five, under the watchful eye of one of his uncles. At the time, in Hawaii, a ukulele was present in every home. When he was little, Kimo regularly saw his uncle Richard playing with his friends. It was he who taught him his first chords and he remains his only ukulele teacher to this day.
Subsequently, Kimo Hussey began studying music, always keeping in mind that he played the ukulele for fun and not to win titles. It was when he retired, after a career in the American Air Force, that his passion for music and the ukulele regained a large place in his life. Since then, he has devoted all his time to it, in order to satisfy his constant desire to learn the instrument. Alongside his professional musical career, Kimo Hussey also teaches his knowledge of the ukulele. On Youtube, Kimo Hussey offers you videos to learn how to play. Do not hesitate to discover them if you want to know more about your wonderful instrument!
As a co-founder, he is notably at the initiative of the "Pacific Music Foundation", an organization whose goal is to promote Hawaiian music. And he also attaches great importance to the promotion of his music beyond the borders of Hawaii. America, in order to enchant those who listen to it.
A ukulele virtuoso
Considered today as a master of the ukulele, Kimo Hussey has influenced many musicians over the years. Moreover, there are countless workshops that he led, nor the concerts that he gave all over the world. In 1999, he released an instrumental album named "Eminent Ukulele". His second album, "Low G", was released in 2015.
Kimo Hussey is recognized for his virtuosity, regardless of the musical style: from jazz, to pop music and the great standards... But his favorite register remains the one where he draws his origins: Hawaiian music, all the more so when that -this takes the form of kanikapila. In Hawaii, these festive musical moments consist of the gathering of musicians and singers gathered around the same objective: to have a good time together and to play for fun. In the tradition that he himself lived as a child with his uncle Richard.
It is a true state of mind that he has adopted, and that he tends to transmit in his teaching of the instrument.
A unique musical style
For Kimo Hussey, the enhancement of the melody is important, while having a very present accompaniment. It's his favorite playing style on the ukulele, a technique that has earned him recognition. This way of playing, Kimo Hussey draws it from the style of play that most professional musicians of the time had. This consists of playing with two fingers of the right hand: the index finger to play the melody, and the thumb for the harmony. These two fingers always move towards each other. The thumb keeps going down while the index finger goes up continuously. For connoisseurs, it's a kind of fusion between two techniques: picking and strumming. According to Kimo, this technique produces a wonderful, full sound.
Kimo is one of those people who likes to change ukuleles regularly, after getting the best out of each one. For this enthusiast, each ukulele has its own personality.
Photo credit: Kimo Hussey