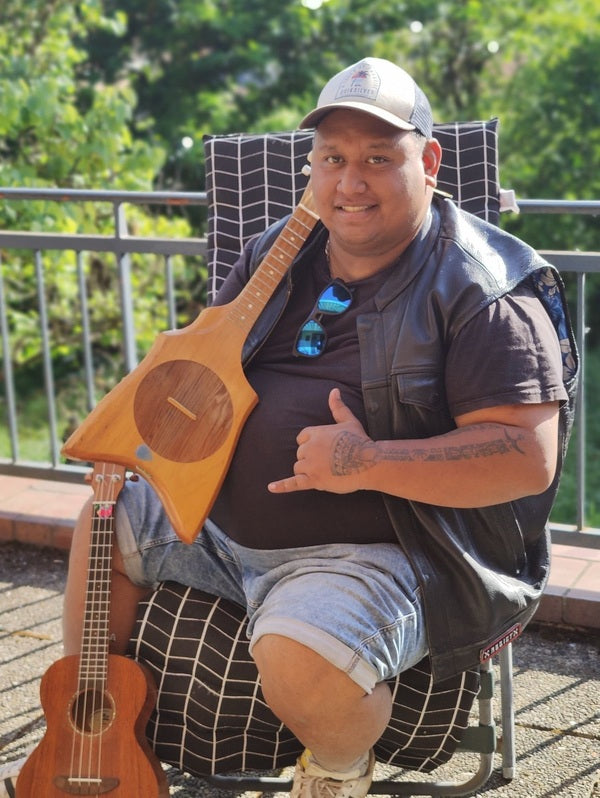 Upa Upa Tahiti had the opportunity to chat with Martin, alias "Bounty". Throwback to this meeting with a ukulele and Polynesian culture enthusiast!
Upa Upa Tahiti had the opportunity to chat with Martin, alias "Bounty". Throwback to this meeting with a ukulele and Polynesian culture enthusiast!
Ia ora na Martin! Can you introduce yourself ?
Ia ora na everyone, my name is Martin but since my adolescence many have nicknamed me "Bounty". I'm 34 years old. I was born in Tahiti but I grew up in mainland France, in the Auxerre countryside, between Paris and Dijon. I am a child fa'a'amu as they say in Tahiti, an adopted child. Because of my history, unfortunately I was not really rocked by the Polynesian culture. However, it is anchored in me and I try by all means to learn (and pass on to my children) the Tahitian language, the passion for the Pacific, the Tahitian state of mind… Not to mention traditional music!
Speaking of music, what place does it occupy in your life?
As far back as I can remember, there has always been music in my ears. As a child, I remember listening to my parents' radio, vinyl records and audio cassettes. At home, their musician friends also came by regularly to "party". And my brother, five years older than me, was already making music, before I decided to get into it myself. All these influences allowed me to develop a great interest in music. When I was six, I then took lessons at the music school in my town for thirteen years.
From then on, music never left my life. And since 2002, I have been a musician in a Brass Band (a musical ensemble of brass instruments and percussion). Not a day goes by without music at home, in the car...or even on my bike! [laughs]
How long have you been playing the ukulele? And how did you learn to play?
I really discovered a passion for the ukulele by deepening my knowledge of Polynesian culture and music. I started playing the Hawaiian ukulele about six years ago. I learned on my own, watching tutorial videos on YouTube. And for four years, I've been strumming on the eight-string Tahitian ukulele of one of my cousins.
What are your favorite songs to play on the ukulele?
I really enjoy playing "Pahoho" by Te Ava Piti, "Tiare here" by Angelo Neuffer, "Somewhere over the Rainbow" by Israel Kamakawiwoʻole or Keen'V's latest song, "Tahiti"… But the list could still be very long!
Are there any artists who inspire you?
I don't have an artist in mind who particularly inspires me, but I could still cite Te Ava Piti, Bob Marley, The Rolling Stones, Tupac Shakur... I'm especially sensitive to songs with lyrics, it's a real source of inspiration for me.
What do you like with this instrument?
I love the ukulele because it has many advantages! It is a compact instrument, which we can easily take with us. The ukulele is versatile and can play almost all musical styles. The only limit is the one we impose on ourselves. You can do only instrumental accompaniment or play and sing at the same time if you prefer. I don't have a favorite model: whether it has four or eight strings, everything suits me!
However, my favorite instrument remains… the trumpet! I started playing it when I was six years old and I really like this instrument. I also practice the drums, the piano, the guitar... I am a musical Swiss army knife. I like to interact with anything and everything as long as the music is present.
Do you think it is difficult to learn the ukulele? Why ?
No, I don't think the ukulele is a difficult instrument to learn. On the other hand, you still need to have a certain flexibility of the wrist in order to do perfect rolls (which I don't know how to do yet [laughs]).
For anyone wishing to learn, my advice is simple: just follow the video tutorials from the Upa Upa Tahiti channel on YouTube! In all honesty, I find them simple and effective, everything is well detailed. And you also have to be persistent because even if it's not a complicated instrument, you won't be a prodigy in five minutes. But with a little will, it can be faster than you think.
Mauruuru Martin for this interview! Do you have one last thing to add?
Mauruuru roa to all those who have taken the time to read this interview and thus discover my "universe". Take care of yourself in this post-covid period and look forward to discussing music with you, on Instagram (@bounty_987) and Tiktok (@bounty.987). Nana!