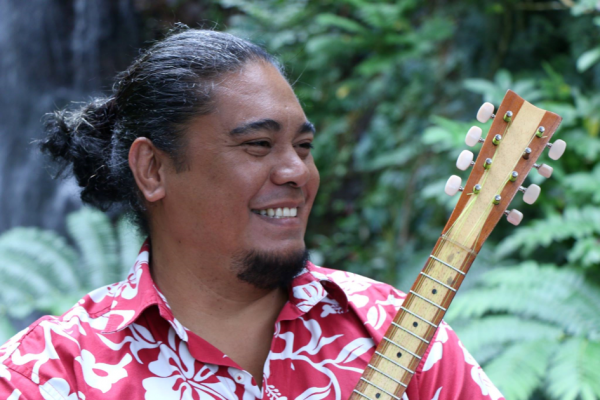 Upa Upa Tahiti presents the portrait of Neagle TEINAORE, a friendly ukulele teacher who offers ukulele and guitar lessons for all audiences. He can give lessons in his music school in Tahiti, at home and can even travel to the islands of French Polynesia or abroad to teach his passion.
Ia Ora Na Neagle, can you tell us about yourself and your background?

Ia Ora Na, my name is Neagle TEINAORE, I was born in Tahiti and I am the eldest of four pastor's sons. From an early age I had the chance to travel the Great Pacific, but also the metropolis and Europe alongside my father who taught me the basics of Ukulele and Guitar.
Back in Tahiti, I continued my musical apprenticeship with my classmates for whom the main challenge was to master as many instrumental solos as possible. After high school, I studied mechanics and industrial production while improving my musical knowledge at the same time.
At almost 43 years old and after having exercised several responsible jobs in industry, hotels and commerce, I have decided to pass on my greatest passion: music.
I am proud today to be able to teach my love for the ukulele and the guitar through the cultural approach offered by the "Cultural and Artistic Center 'Arioi" of Papara as well as in Taunoa, within "La Salle of Tahitian Music".
What exactly do you offer as a course?
I have been a musician for almost 30 years and I give ukulele and guitar lessons in French Polynesia for all profiles. I love sharing my passion, I adapt to all profiles, children and adults alike.
Do you give ukulele lessons in English?
Yes of course, I give ukulele lessons in English, it's not a problem. I have already given lessons to American tourists.
Is it difficult to learn the ukulele?
The ukulele is an easy instrument to master with a little training and practice. It is easy to transport and allows you to make pretty little Tahitian melodies at home in a short time to relax or go out on the streets. It is an instrument that I particularly like because it is typically Polynesian, easy to learn and has a very nice sound. In my opinion, there is no age to learn the ukulele, the main thing is to want to progress. I also have many adult students that I train every week.
Can you explain to us how your ukulele lessons are going?
Each of my lessons lasts between half an hour and an hour but the course changes all the time because I adapt according to the level of my students.
For a beginner, we will learn basic chords, scales, rhythm and we will quickly start playing ukulele songs!
For someone who has a little more practice, we revise the chords learned the week before, we learn new Tahitian songs, we learn new musical rhythms. It can be local, French song, kaina, reggae, folk, rock. It's à la carte, I adapt to the requests and tastes of the students...
What is the frequency and duration of your lessons?
Generally I work once or twice a week with each of my students. Classes last on average one hour and then the students revise their lessons and practically quietly at home until the next class.
Do you give private or group lessons?
I prefer to give individual lessons because it allows me to accompany my student in his progress.
Afterwards, I can very well give ukulele lessons to a couple on honeymoon, a family on vacation or even to a group of up to 10 people. It's friendly, we laugh a lot and it's always in a good mood!
From what age do you give lessons for children?
I give lessons to children from 7 years old.
Where do you give your ukulele lessons?
I give my lessons at the Tahiti music school in Fariipiti, Papeete but I can also travel to give lessons to tourists wishing to learn the ukulele in French Polynesia. I can go to their Airbnb, hotel or boarding house whether in Tahiti or on the other islands. Simply contact us and we can arrange a custom package.
Should I bring a ukulele to take your lessons?
The best is to bring your own ukulele of course but I can very well lend an Upa Upa Tahiti ukulele so that the student can learn.
Finally, what is your favorite ukulelele song?
PAHOHO by Te Ava Piti.
One last question for the road, who is your favorite Polynesian artist?
Angelo NEUFFER, for the relevance of some of these texts and the effectiveness of his Music.