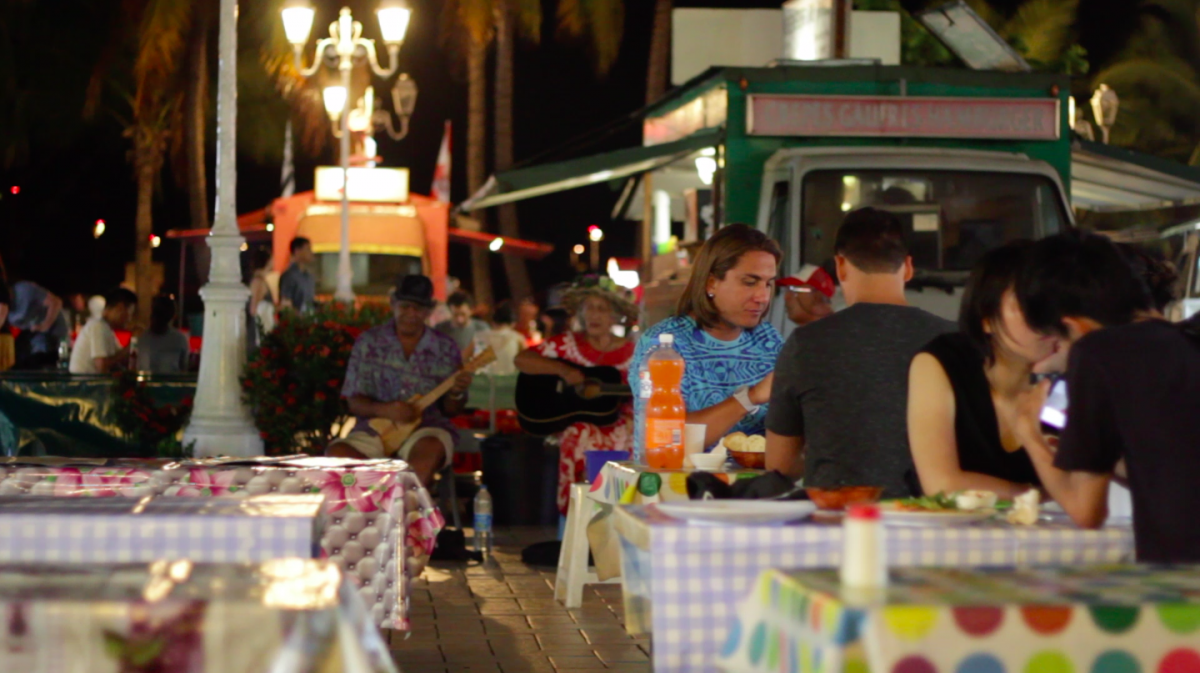 Caravans are very widespread and appreciated in Tahiti, as in all of French Polynesia. Their origin dates back to the 30s when they emerged among Chinese immigrant families in need of money, to gradually evolve until now. Emblematic of the Pacific Islands, it is a warm place where we like to meet around local and hearty dishes. With a little luck, you will even be able to enjoy the ukulele players who come from time to time to party on the square of Vaiete!
Did you say "caravans"?
At first glance, when we hear of the word "caravans" in Tahiti, we think of its primary meaning of the term, the caravans used by itinerant people to travel and live there, such as fairgrounds for example. But in Polynesia, this word does not have the same meaning! We talk about trailers to simply designate food trucks, that is to say restaurant trucks, vehicles equipped for the production and sale of dishes and drinks which are generally snacks. Its name can vary according to its region, as for example in Reunion where they are called "camion-bar" or "gourmet truck" in Quebec. And you have now understood, for Tahiti it's trailers!
The first trailers appeared in Papeete in the 1930s. Basically, they were mainly bamboo carts through which the Chinese sold fruits and vegetables. Around the 1950s and 60s, they evolved into mobile mini-convenience stores that moved around neighborhoods to save residents from having to travel to the shops. Then they gradually came to a standstill on land or squares to sell pancakes, cakes... even whole meals for people to come and dine there. Today, they are equipped for the preparation of meals and they are real family businesses, over several generations! It is said that during the festivals of Tiurai and Heiva in June and July, the trailers came to settle in town in Vaiete for the time of the festivities. Now, they are still there but for the whole year and this place has become emblematic. The population likes to visit this place very much and the caravans work very well because the dishes are good and at lower prices than those of the restaurants. It is an ideal place to meet up with family or friends and have a good time!
A friendly atmosphere with local food
In Tahiti, you can find trailers all over the island. There are even lots or car parks used especially for their pitches, sometimes by grouping several trailers side by side, such as in Vaiete on the Papeete seafront or in Taaone near the Pirae hospital. They are present by the sea but also close to colleges, high schools and businesses to ensure that they find customers wishing to buy a "ma'a" ("meal" in Tahitian) nearby during their lunch break. . And of course if you travel to the islands of French Polynesia, you can be sure to find caravans there as well, although there are fewer of them there than in Tahiti, where the economy and population are the highest.
All the trailers mainly offer the same characteristic dishes from Polynesia, such as different preparations of raw or cooked fish, grilled meats and meats accompanied by fries or even Chinese dishes such as the typical chao men, an assortment of Chinese noodles with sautéed vegetables with meat. But other caravans rather sell snacks or paninis for students from nearby schools, some of the Breton pancakes or even Thai dishes. There is something for every taste ! We find there the mixture of cultures present in Tahiti, and the food is always served copiously to the great pleasure of the Polynesians! The goal is really to have fun and that everyone can have access to it. Food balance is not the first priority, which could be seen as a point to improve in a region where obesity and overweight are a scourge. Generally trailers do not offer alcohol without the appropriate license, which does not prevent the festive atmosphere that can be found there. Indeed in Vaiete, local ukulele players come regularly to liven up the evening to the sounds of Polynesian melodies! Something to spend a memorable time if you come to Polynesia for a vacation!